Anthrax
Live @ Alerus Center 01.25.2023

---
Anthrax Live at the Alerus Center
Grand Forks, North Dakota 01.25.2023
---
Live Concert Performance Review
Article and photos by E. Jourdain, Jr. 
---
Grand Fork, North Dakota —
Anthrax celebrating 40 years together. According to Co-Founder and guitarist Scott Ian, the Metal Thrashing Mad band was formed on July 18th, 1981, in New York City.
Anthrax and I were born the same year with me being the elder by just over two months. I got my first taste of Anthrax when the 1987 album Among The Living was released. By the time I was six years of age music was already a heavy passion of mine. Rock music was being carved into my soul as my dad was into rock music mainly from the 60's-70's era, and my big cousins were 80's rockers. I was around those big cousins quite frequently growing up. My older brother and I rocked out a lot together.
I clearly recall hearing the band's first single off that record. It was a song called "Indians." MTV was in full swing at this time and when I saw the video with a Native man running around wearing a headdress, I was beyond stoked. This was an era where Native American heroes were few and far between. Knowing we had a rockstar now was such a great feeling, especially to kids like me, from the Reservation – like Joey Belladonna mentions in the song. At six years old, the chorus "Cry for the Indians, die for the Indians!" was just about all I knew of the song. I never would have imagined that the songs lyrical content would be so relevant over 35 years later.
---
---
OK! Let's talk about the show!
This tour consists of a legendary line-up, including Bay Area Thrash Scene pioneers, EXODUS opening up the show.
Exodus spends no time getting the crowd moving. They open with a newer song called "The Beatings Will Continue (Until Morale Improves)" which was released in 2021. If you are not familiar with the trashers, know that the frontman Zetro has a very eccentric vocal sound, in a good way of course. Zetro's vocals are screaming/screeching/sometimes black-metal-esque, with a heavy mix of Bon Scott. In fact, Zetro has admitted in a recent questionnaire with BLABBERMOUTH that his vocals are "pretty much imitation" of Bon Scott. Zetro is also in an AC/DC cover band called AC/DZ.
Zetro's powerful performance as a frontman keeps your ears tuned in to the music. He is undoubtedly in charge when he is on stage. Zetro frequently shreds his air guitar and headbangs at the same time.
---
---
Hey, I know that guy!
I've known of Exodus for a very long time, but this was my first time seeing them live. However, this is my umpteenth time seeing Gary Holt shred on guitar. Holt played guitar live for Slayer for several years and appears on their 2015 album "Repentless."
Gary Holt is a legend in his own right. He joined Exodus in 1981 and shared guitar duties with the bands founder Kirk Hammett prior to Kirk's exit in 1983 to join Metallica. Holt has been the main songwriter since joining the band and the only Exodus member to appear on all of their albums.
Holt's performance is pure thrash. He is, for the most part, stationary. But when he is shredding, you can see it in his eyes, in his head movements, that he is definitely feeling the music.
---
---
EXODUS ARE IN THE ROOTS OF THRASH
The Bay Area of California had spawned so many notable thrash bands. Witnessing Exodus live feels like a time capsule that takes you back to the roots of the sound being created in garages. The arena's sound system seems a little distorted but that might just be the perfect mix for this band. We may be older now, but the sound is still there. Exodus are a deeper kind of thrash. They command the attention of the crowd, and the floor erupts into multiple mosh pits. In fact, mid-set frontman Zetro commanded a "Wall of Death" to occur, the crowd happily obliges and the walls clash, spawning one large mosh pit for the duration of the band's performance. As a first timer, I was very impressed by Exodus live. I know the band's history so seeing them in-person was a special treat. Do not sleep on catching this band live.
Catch EXODUS on this tour and keep up with them online: EXODUS on Facebook
---
---
Black Label Society
Unfortunately for me, Black Label Society did not grant photo credentials for this tour stop. So instead, I took up a seat and just enjoyed the show. Fortunately for me, iPhone's have a decent camera and are permitted by the venue so I was able to get at least a few cell phone pictures that I felt were relevant for this article.
Black Label Society are fronted by thee one and only Zakk Wylde. There are no gimmicks, nothing flashy and nothing less than a good ol' hard rock/heavy metal band. BLS gets straight to the rockin' and it stays that way for quite a long time before the band pauses to swap out their instruments. Zakk takes a brief moment to introduce the band and then it's back into the music. The energy remains at the same high level of headbanging momentum, driven by none other than Zakk Wylde and his classic side to side hair waving groove.
---
---
In this River, all Shall Fade to Black.
Just over halfway through their set, the lights turn off. A piano enters stage left and frontman Zakk Wylde takes the helm. Lights come back on and Zakk toasts the crowd on behalf of his bandmates. A brief pause, Zakk begins the keys to the 2005 Billboard charting hit "In This River." Zakk points to the sky, and large banners drop over the speakers on each side of the drums. The banners dawn portraits of Zakk's close friends, the Abbott brothers known as Dimebag and Vinnie Paul (Pantera, Damage Plan, HellYeah.) A projector flashes photos of the Abbott brothers, along with Zakk Wylde and others in their circle.
This particular performance in the set was very heartfelt and emotional. The band gathers themselves and Zakk encourages the crowd to make some noise for their fallen brothers. The band finishes their one-hour and ten-minute set strong with bangers such as "Fire It Up," "Suicide Messiah," and "Stillborn."
---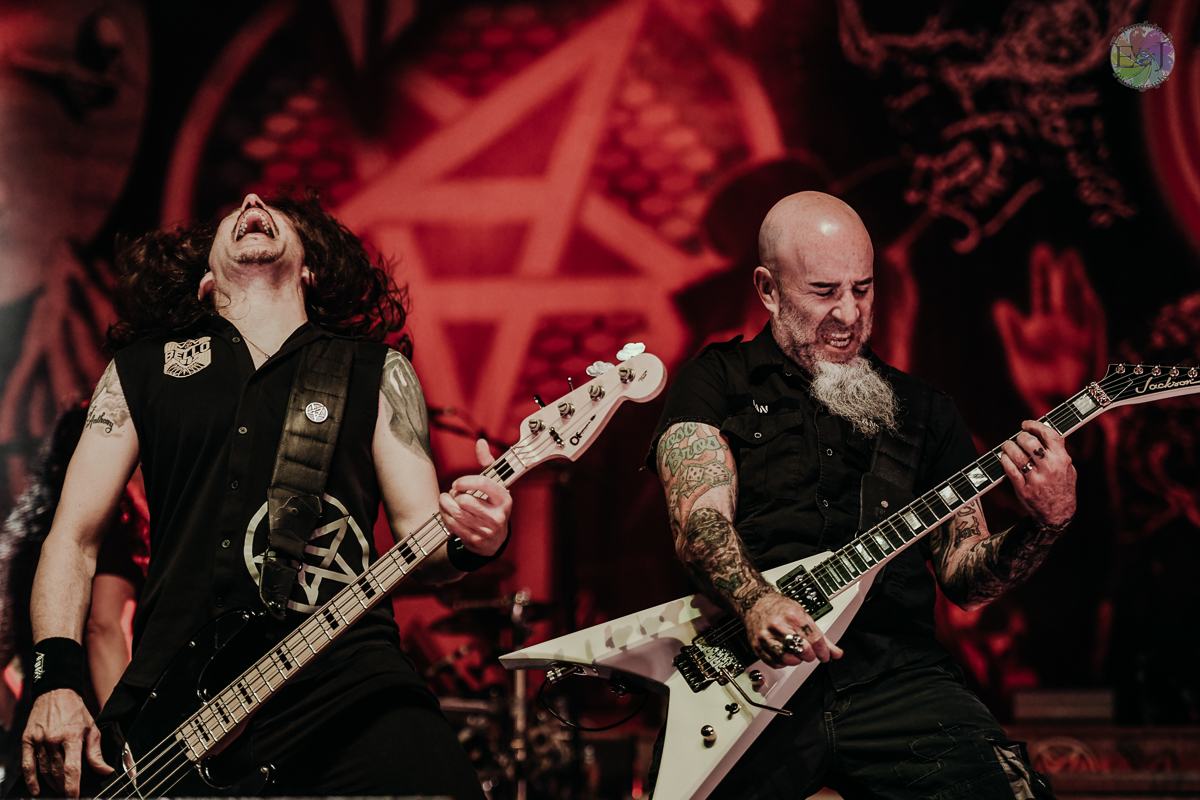 Anthrax bassist Frank Bello and Scott Ian on guitar by E. Jourdain, Jr. for Under The Lights
---
I'M THE WALKING DUDE!
It is now 9:30pm on a Wednesday night, well past my bedtime and two-hours from home. Well, more like a simple hour and a half, but like I mentioned it was well past my bedtime. A large screen hangs in front of the stage, a montage of who's-who in the metal realm and other notable celebrities are projected onto it. Each person included in this montage is praising Anthrax for all that they are, all that they have accomplished and what they mean to the metal world.
The intro is epic and no doubt gets you fired up for the band to take stage, in which they do behind the large screen. As the montage video ends, lights from the stage project the bands silhouettes back onto the screen. As the screen falls, the band, except the vocalist are present and already hammering away, soon enough Joey Belladonna enters stage left with his classic half mic stand in hand and the band is into their leadoff song from the 1987 album with the same title "Among The Living" which I feel is the staple of the bands overall style. It is fast, it has the lyrical dedication to social issues, the fast and operatic vocals and the ganged chorus, and overall it just thrashes hard.
---
---
AH! CAUGHT IN A MOSH!
As quickly as the opening song ended, the second begins and it's another classic Anthrax anthem. This time, "Caught in a Mosh," pleases the crowd as it entices participation. I happily dodge crowd surfers in the media pit. Anthrax performed with non-stop energy. Joey Belladonna's vocals are still powerful as ever, Scott Ian still has the stomp, Bello still prefers to roam the entire stage, including up the steps behind the drummer to a secondary raised stage, and longtime touring lead guitarist Jonathan Donais heads up the lead guitar duties. Just five days prior to this show, the band had announced on their Facebook page that Drummer Charlie Benante would be stepping away for some dates to have a minor procedure done and that Derek Roddy would be filling in. Roddy is a well-reputed drummer in the metal world and capable of any drum duties. His performance with Anthrax was flawless. Hats off to him for filling in!
In closing, I would like to say to anyone who has never witnessed Anthrax live – you are missing out on such a legendary performance. Anthrax are in a special category of "Legends of Legends" and are one included in what is known as "The Big Four" of thrash metal with the likes of Metallica, Slayer, and Megadeth. I have had the pleasure of seeing this band in many stages of their career and one thing is for certain, there is no slowing down for the band called Anthrax.
Happy 40+ years, Anthrax. Thank you for continuing to Bring The Noise!
---
---
Are you looking to have your event covered? FIND OUR CONTACT INFO: TEAM U.T.L
---
---
---
---
---
---
---
BE PART OF THE TEAM BEHIND THE SCENES!
We are actively seeking sponsors! Do you have a brand, an apparel company, a business, a product, a blog or website, or even a social media account that you would like to get some shine on? – send us an email and let's work out a deal!
Sponsors will get exclusive content, merchandise and/or a featured post on this website and/or our social media channels. We are looking for sponsors of all levels from smaller basic sponsorships to larger elaborate deals.
Email: media.underthelights@gmail.com with SPONSOR INQUIRY in the subject and let us know what you have in mind!
You can help us with costs and future projects. Buy Me a Coffee: